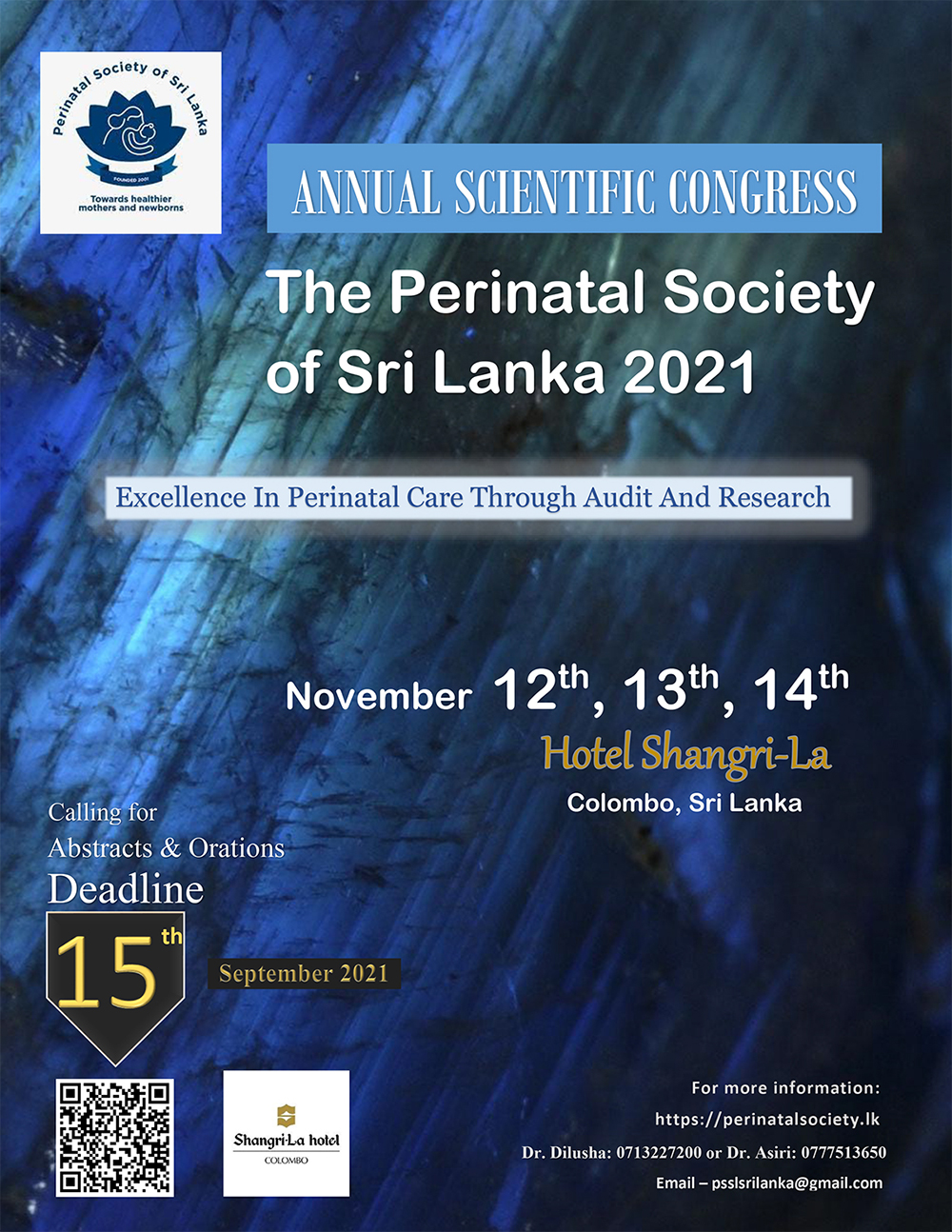 13th & 14th November 2021 at Shangri-La Hotel, Colombo
Programme: Day 1 – Saturday, 13th November 2021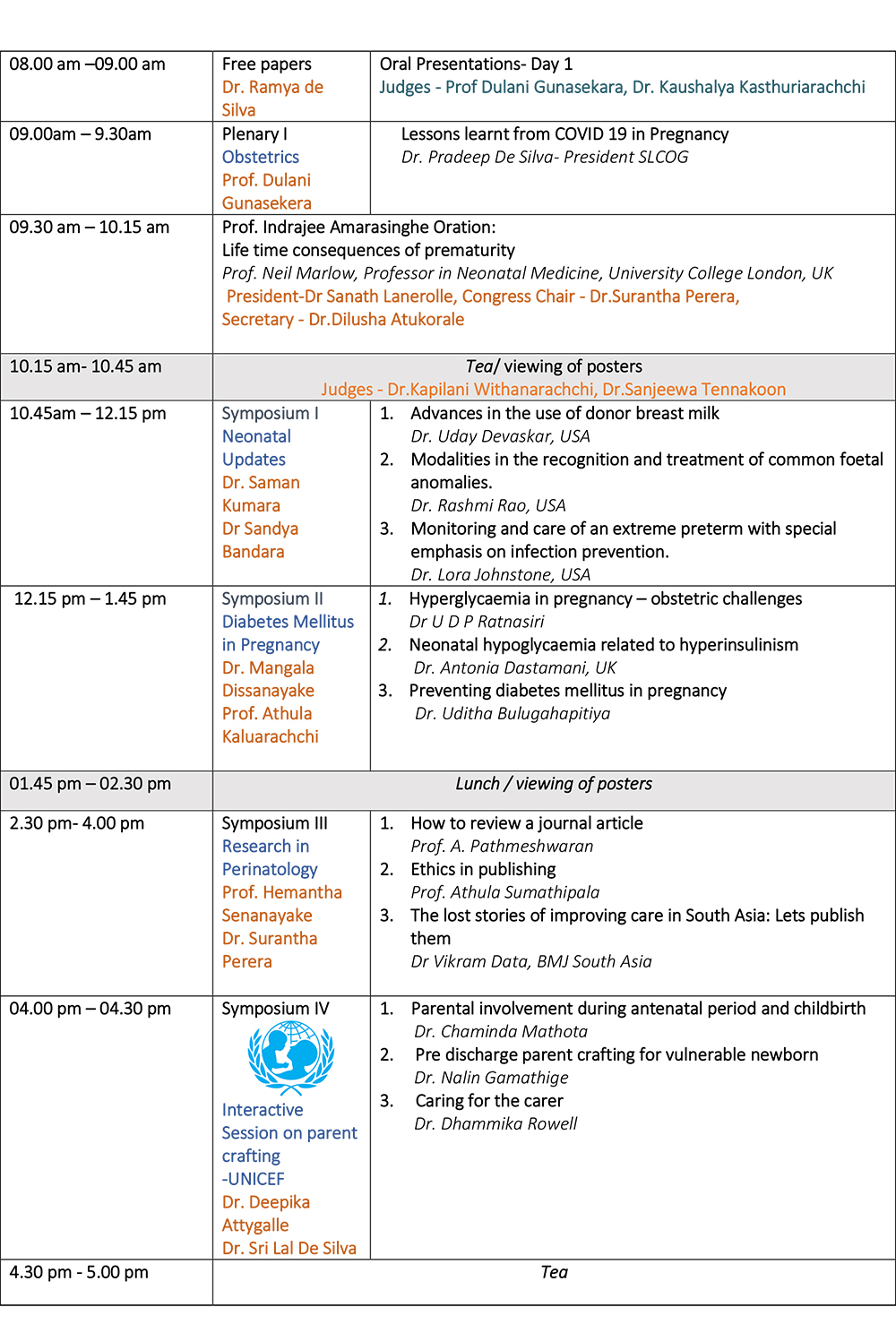 Programme: Day 2 – Sunday, 14th November 2021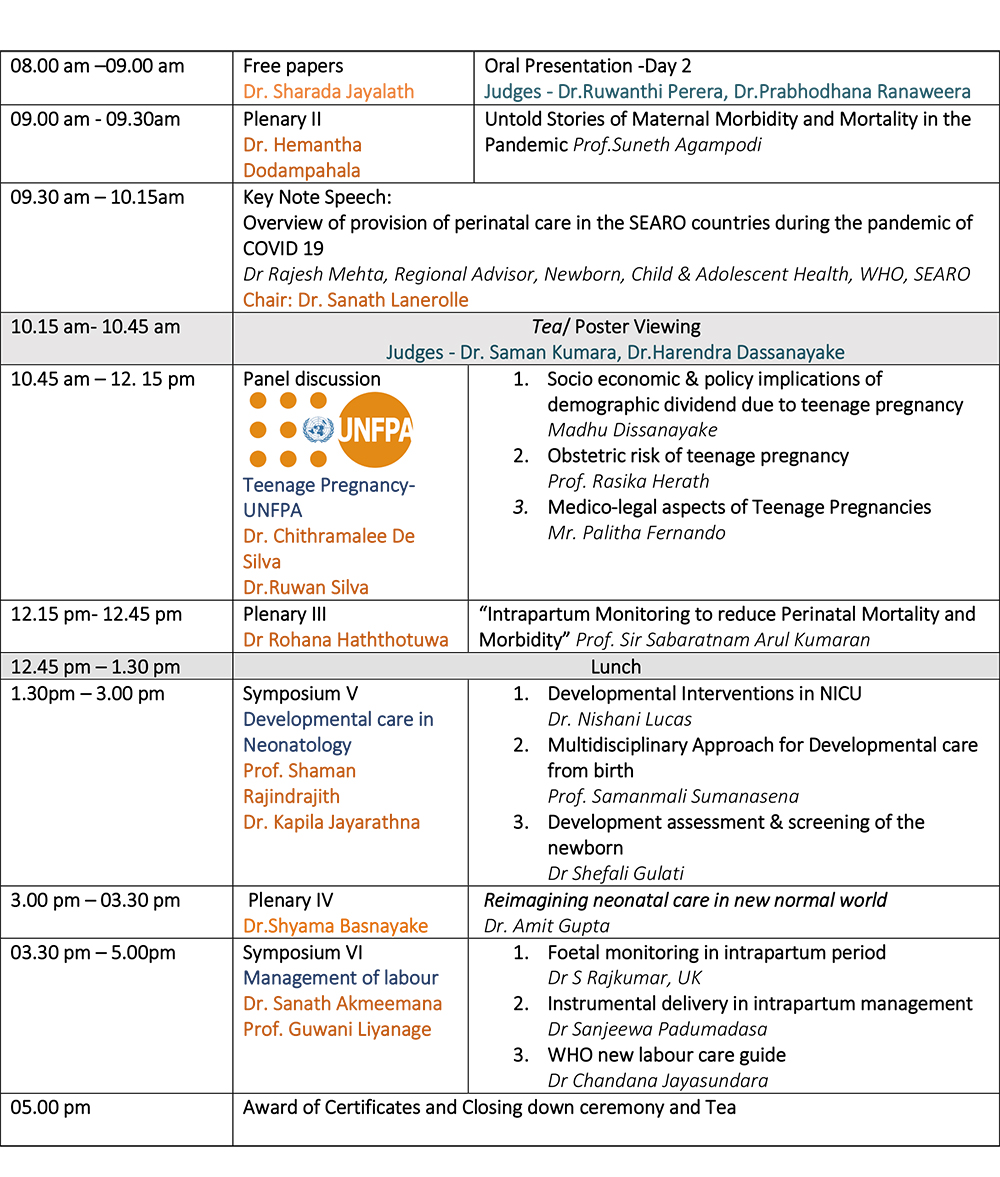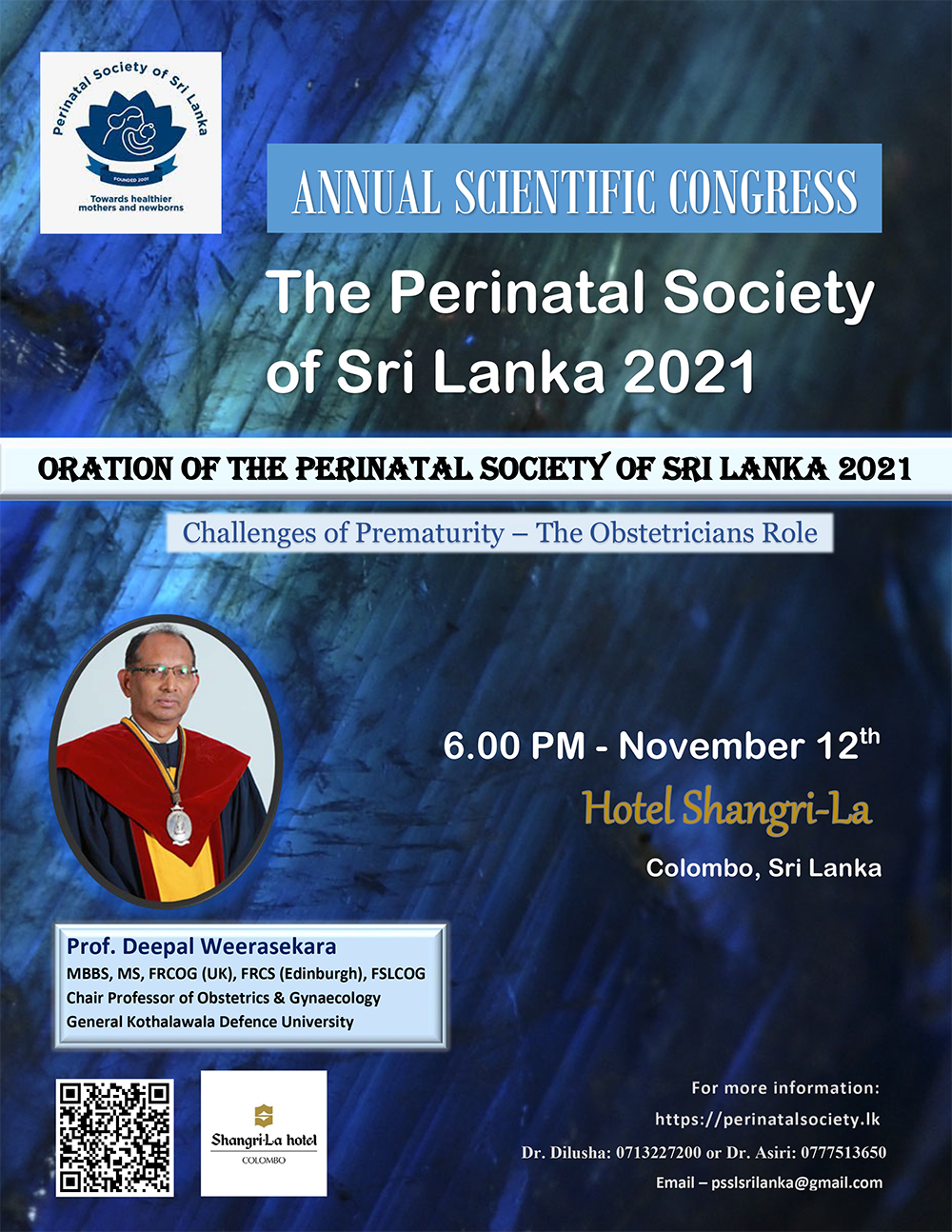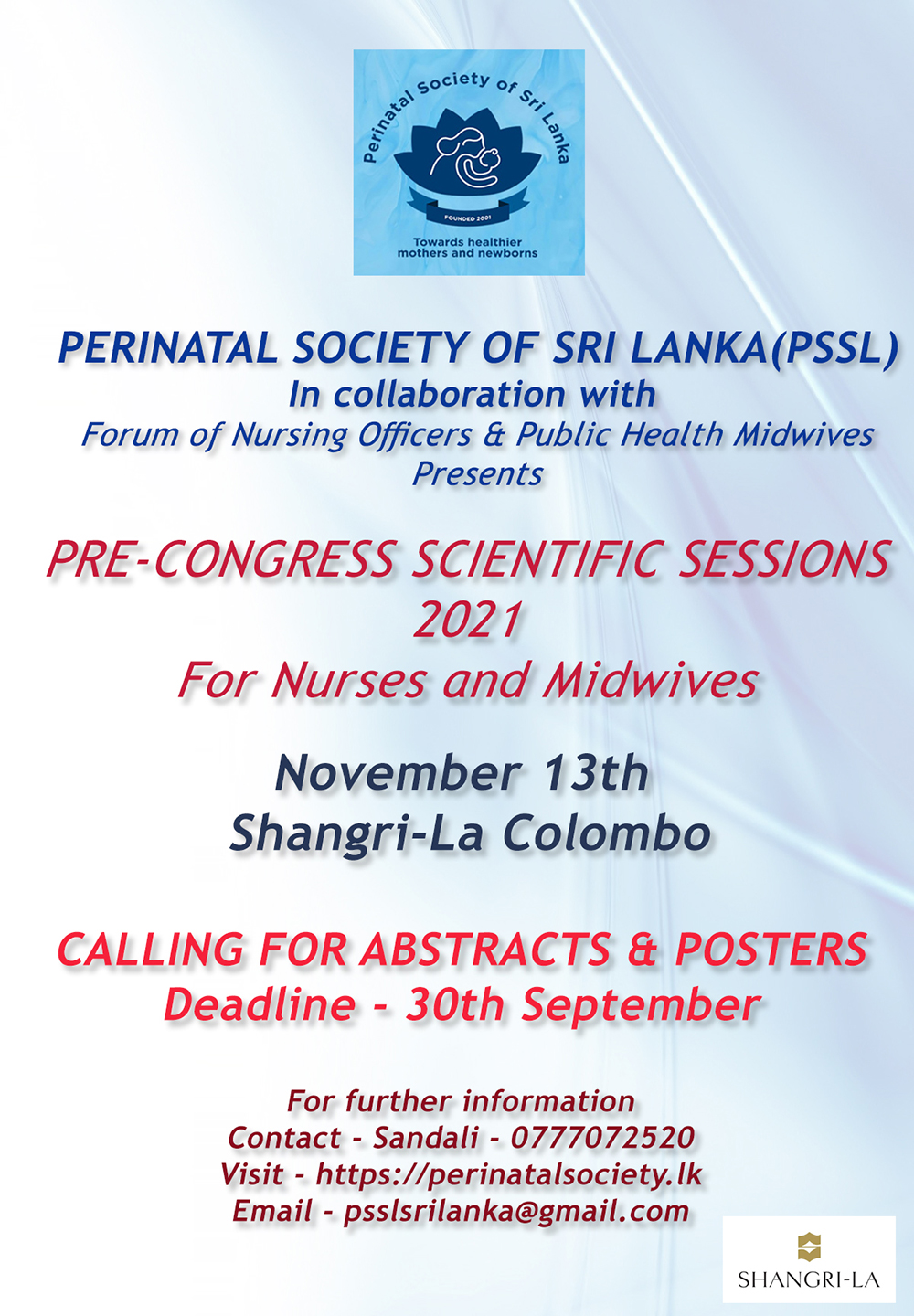 Pre-congress Scientific Sessions of the Perinatal Society of Sri Lanka (PSSL) for Nurses and Midwives
In association with the Forum of Nurses and Public Health Midwives of PSSL & Perinatal Association of Private Hospitals in Sri Lanka (PAPHSL)
12th November 2021, at Shangri-La Hotel, Colombo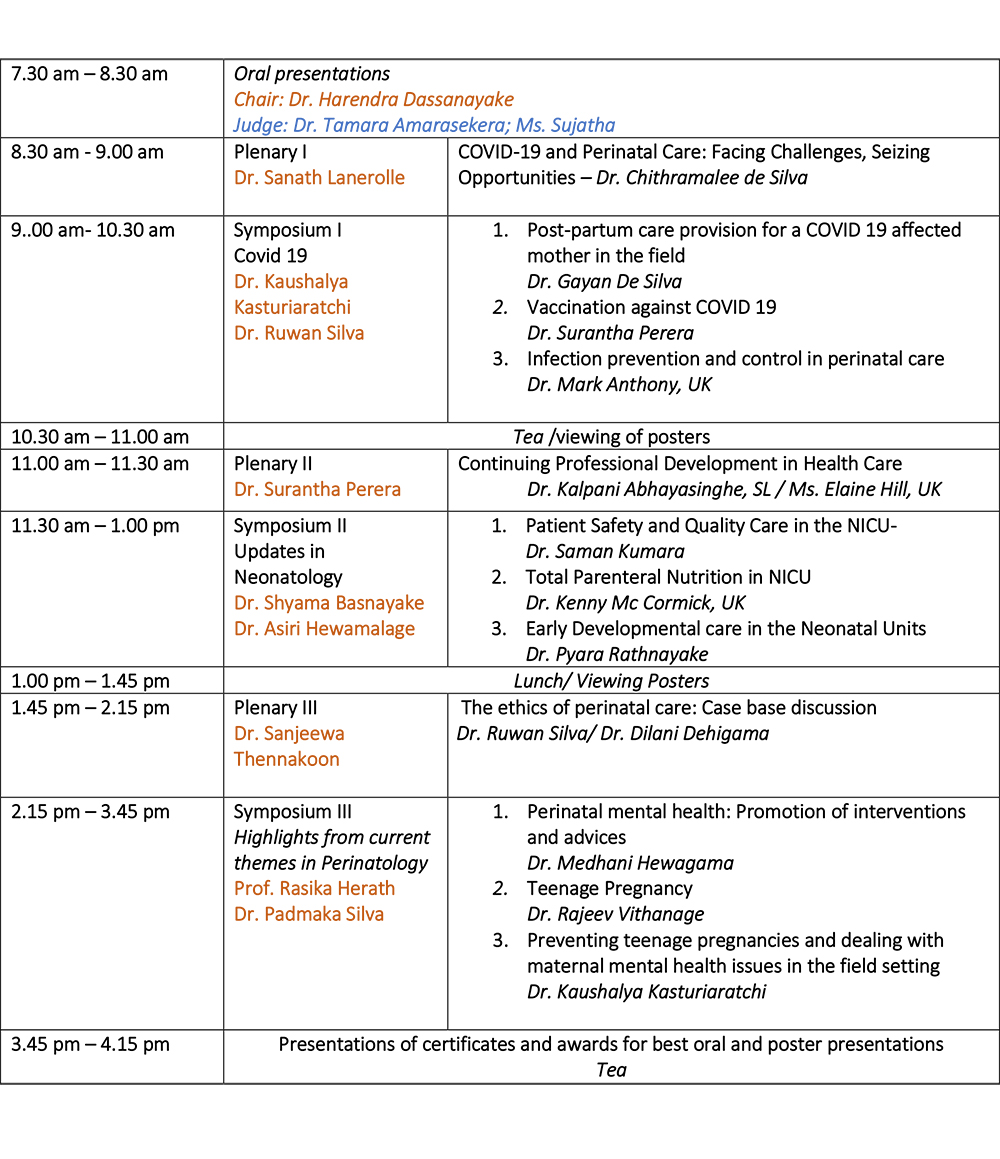 Registration
Pre Congress sessions for nurses and midwives – November 12th Friday (1 full day) – Hotel Shangrila, Colombo
Number of physical participants – maximum 100

Registration fees :
Government sector nurses/midwives – Rs 2000
Private sector nurses – Rs 2500
Annual Scientific Conference – November 13th, 14th
Hotel Shangrila Colombo
Number of participants – maximum 100 per day (if they are registering for both days need to take that count also into consideration)
Registration fees for both days :
Consultants : Rs 6000 
Trainees/medical officers – Rs 3000
For both sessions :
Pre registration only – no onsite registration as we need to limit the number of participants
registration will be on afFirst come first serve basis for physical participants as the slots are limited.
Others can join via zoom.
Zoom participants registration fee – Rs 1000
(zoom link will be sent only after registration)
Registration fees can be paid
1) To Miss Sandali – SLCOG office, Model Farm road,  Colombo 08
On Monday/Wednesday/Friday (except Public holidays)
Receipts will be given as soon as the registration fees are paid and that can be produced on the day of the conference.
2) Online payments can be done to the following account:
Account name                     – Perinatal Society of Sri LankaAccount number                  – 0820-13268193-001
Bank                                      – Seylan Bank
Branch                                  – Borella
Once the online payment is done, the payment slip needs to be sent by WhatsApp to 0777072520. That will be acknowledged and it can be produced on the day of the conference.
The final program of all 3 days will be sent to you by Dr.Surantha/Dr.Asiri, over the next few days for you to upload to the website. 
Any queries please contact Miss Sandali on  
0777072520